Fine teas for every day
There's nothing like a cup of tea. Our exclusive teas deliver the perfect cup. With all the advantages of double-chamber tea bags, they offer you intensive, full-bodied infusions and everyday convenience. From traditional Assam to Garden Strawberry Rhubarb, you'll find one for every occasion. Enjoy.
Single bags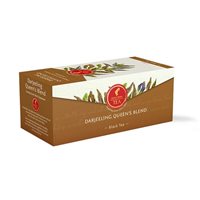 Black Tea
Darjeeling Queen's Blend
Handpicked in the highlands of Darjeeling, Northern India, this unique black tea bursts with a fine floral aroma and a rich amber colour once infused.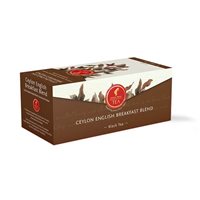 Black Tea
Ceylon English Breakfast Blend
This black tea from Julius Meinl is harvested with utmost care in Sri Lanka, is characterized by a delicate flavor with a vivid bronze color once infused. This aromatic tea is perfect for a refreshing cup of tea with or without milk.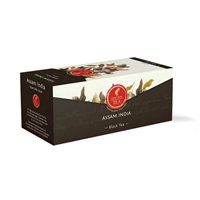 Black Tea
Assam India
This high quality second flush black tea from the Assam region of Northern India is characterized by a fine malty taste as well as a red chestnut color.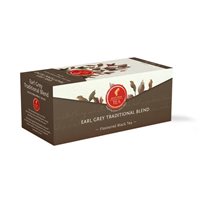 Black Tea
Earl Grey Traditional Blend
This remarkable blend is enriched with the fresh aroma of the Bergamot orange, providing an exceptionally zesty taste.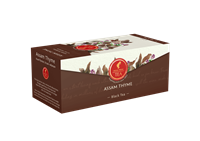 Black Tea
Assam Thyme
This black tea from India is refined with delicate thyme. The lightly sweet flavour of the thyme herb fosters the malty taste of the Assam and indulges with a full bodied taste.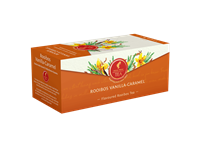 Rooibos
Rooibos Vanilla
The history of rooibos tea is deeply rooted in South African culture. The light nutty and sweet taste of the rooibos perfectly harmonises with the scent of caramel and vanilla.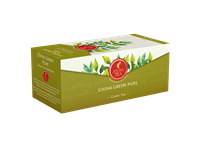 Green Tea
China Green Pure
Enabling the aroma to flourish, this Chinese green tea is harvested and prepared with utmost care. Once infused the tea entices the tastebuds with a fascinating shade of yellow.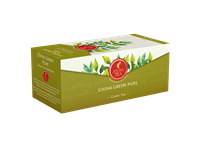 Green Tea
China Green Jasmine
This fine Chinese green tea is characterized by its mild taste. The intensive flowery aroma of the jasmine blossom harmonizes with the typical taste of green tea.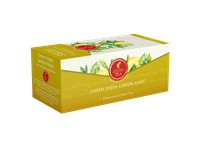 Green Tea
Green Fresh Lemon Mint
This Chinese green tea is harvested and prepared with utmost care. In this composition with fresh mint and the fruity scent of lemon the green tea yields a fresh and intensive aroma.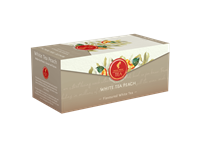 White Tea
White Tea Peach
This white tea is composed of leaf buds and young tea leaves resulting in a mild taste, gently enrobed by the taste of sun-kissed peaches. It gives a light yellow colour once infused.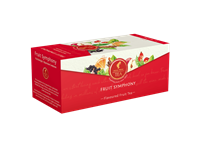 Fruit Tea
Fruit Symphony
This composition of sun-ripened fruits is particularly invigorating. The taste of hibiscus, apples and rosehip are blended with orange, cinnamon and lemon to achieve a well-balanced taste.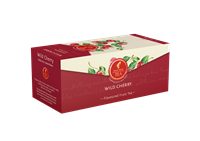 Fruit Tea
Wild Cherry
The gentle acidity of cherries makes this fruit tea notably refreshing. Once infused a wonderful deep red is fully released.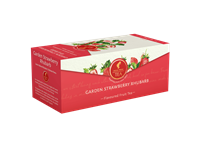 Fruit Tea
Garden Strawberry Rhubarb
Sun-ripened garden strawberries mingled with savory rhubarb give this fruit tea a fresh and pleasant aroma. Enjoy this tea at any time of the day.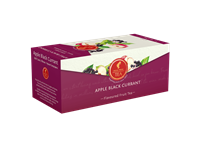 Fruit Tea
Apple Black Currant
Enjoy this rich and fresh blend of apples and berries. The mild fruity taste of apples harmonizes perfectly with the sweet aroma of juicy berries.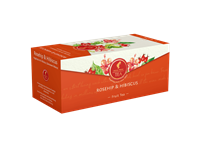 Fruit Tea
Rosehip & Hibiscus
A fruity-tangy taste enticement of rose hips and hibiscus. Also enjoyable as a cold refreshment.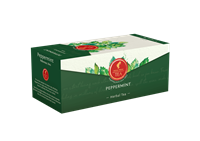 Herbal Tea
Peppermint
This tea from selected mint leaves is very refreshing. Peppermint has a high content of essential oils that are known to positively influence our well-being.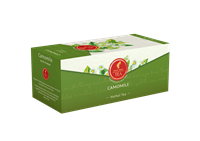 Herbal Tea
Chamomile
Composed of carefully selected chamomile blossoms, this herbal tea provides a mild aromatic taste whilst delivering a positive, soothing effect.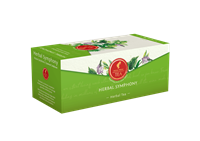 Herbal Tea
Herbal Symphony
This blend is a harmonic composition of beneficial herbs. Melissa, mint and sage guarantee a refreshing taste.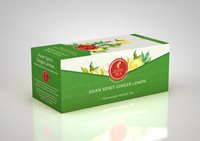 Herbal Tea
Asian Spirit Ginger Lemon
An energizing herbal blend that combines the freshness of lemon, the warming power of ginger, and is completed by a sophisticated spicy note of black pepper.